DJane ZHANNA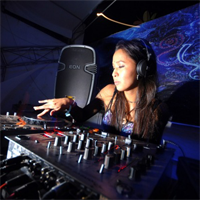 My Life Is Music And Music Is Live
DJane Zhanna was born in 1985 in Almaty, Kazakhstan. Everything for sure started from the first raves, from the clubs, from dancing all night long, from the crazy afterparties in 2004! This was the time when DJane Zhanna deeply falls in love with electronic music. And it was also the time when she started to dream about being a DJ.
In 2006 DJane Zhanna starts to play drum and bass and takes nickname Thugmiss. She played in many clubs in her hometown. In 2011 she comes to Goa for the first time and everything changes after that! When she came to real Goa party, she fell in love with a cosmic beat of psy trance, same time she realized that she wants to play it.
And already in the middle of January she plays her first Goa set at Curlies and leaves her real name ZHANNA as her DJ name. After she played in the best parties of Goa with such psy trance stars as: Burn In Noise, Aphid Moon, Earthling, Edoardo, Mr. Peculiar, Massive (Sirius Isness), Dust, Ridden, Samadhi, Kia, XP Voodoo, Dickster, Chameleon, Liquid Ross, Teo and many more. The obtained experience in versatile styles helped DJane ZHANNA to be perfect at mixing technic. She always gives her smile and powerful positive vibes to the dance floor along with a breath-taking music. Not only her talents are attracted in her, but also DJane ZHANNA is beautiful, sexy and have a very exotic look, what makes her live sets unforgettable!
From October 14th DJane Zhanna became an official DJ of Pixan Recordings
And everything just begins!
Tweet